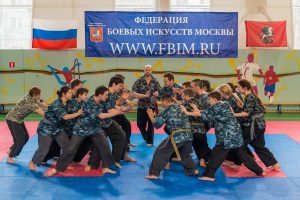 Stenka – is an unique Martial Art and self-defense system, which is a native Russia. Stenka appeared around 1000 years ago, but after the revolution of 1917 its development was completely stopped and reconstruction of this Martial Art has taken place only in the 21 century. At this moment, Russian Martial Art Stenka develops in 18 countries, the Headquarters of the International Federation is located in Lausanne (Switzerland) www.stenka.org
The main feature of Stenka from other types of Martial Arts is that learning takes place directly in the combat team, where one helps another, and interact with them. So, there are two teams takes part in competition and win or lose does not depend on one fighter, but from the actions of the entire team. Studied as an unarmed combat, as work with the weapon: a knife, stick, whip and other types of bladed weapons. Practiced the situation not only fight one on one, that in real life is very rare, but fighting one against three, two against five, three against three and etc. Well developed applied aspect of doing exercises Stenka very popular for everyone, from schoolboys to the police officer. Effectiveness of this method has been repeatedly proven in international competitions Combat Sambo and Mixed Fight. The advantage of learning Stenka confirms the legendary Russian Mixed Fighter, multiple world champion Fedor Emelianenko.
The purpose of the Stenka federation in the near future – is acquainted with the methods, rules and techniques of Stenka for everyone, with the prospect of opening a branch in all over the world, promotion international competitions and the main goal is promoting the Stenka in the Olympic Games.